Invest in Florida...
One of the most desirable and affordable places to live in the United States. We cater to seasoned investors and people taking on this endeavor for the first time.
...we will handle the details
Our passion is making real estate investing both simple and profitable. We are a full-service Real Estate investing consulting firm serving all of Florida.
Locating the Right Property
Once we understand what drives your investment decisions we can begin our search for and selection of the perfect property in the right location where you can get the best ROI. Because we have the kind of access to real estate networks and off-market properties that comes with our level of experience, influence and knowledge of the market, we can find you the perfect property in areas with the highest potential for ROI to support your investment strategy.
Acquisition & Transaction Management
The property acquisition process requires a detailed understanding of the variables of value and stability, as well as the experience and expertise to effectively canvass target markets and key decision makers. We will provide our deep knowledge of real estate investing at the most crucial times in the process.
Property Improvements Planning and Management
We have  extensive experience in property renovation project management and offer the insight needed to complete a successful rehab to maximize your investment. The team at BrightWave Capital, LLC, will ensure a sound renovation project strategy, adherence to completion schedules, and the maintenance of your renovation budget.
Rental Strategy
One of the critical elements of the return on your investment is the rental income your investment property provides. BrightWave Capital, LLC, will offer sound advice on rental pricing and rental terms and conditions to ensure our clients are maximizing their investment while also minimizing their risk.
Our mission
We simplify real estate investments and help clients create value through strategic planning аnd management.
Meet Your Local Team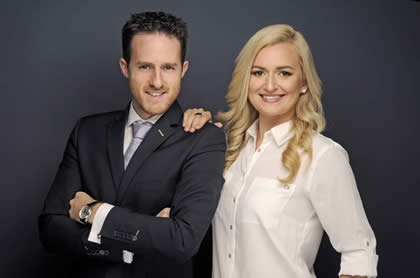 Livia and Emmanuel have had longstanding careers in real estate investing and consulting. Their vision for BrightWave Capital, LLC was to create a company to help every kind of investor in solving their real estate challenges, and to ultimately bring the many benefits of successful real estate investing to all their clients.
"We think of our clients as business partners and look forward to growing with you as you benefit from wise investment decisions. Our team takes pride in the strong bonds and synergies we have built with our satisfied clients, and will continue to grow with you and your portfolio."